Are you running low on ideas for day trips from Knoxville? Don't worry; there are so many hidden and unique attractions for you to explore.
As a true nature devotee, you can embark on unending trails, conquer majestic mountains, marvel at cascading waterfalls, and witness rare wildlife outside Knoxville.
A tour we think you'll love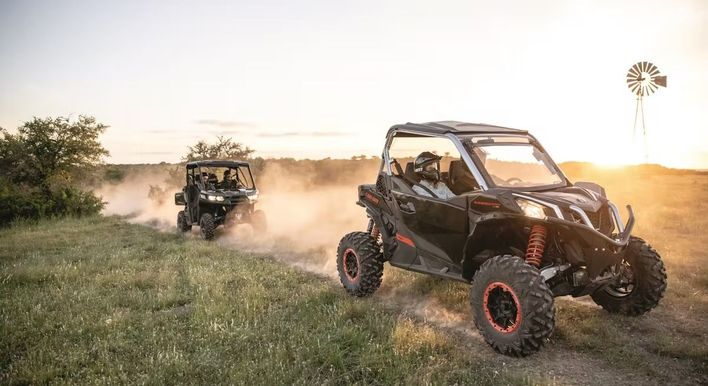 Full-Day UTV Rentals
From $450
View tour
But how about you ramp up the excitement by booking an ATV/UTV mountain rental? Rev the engine as anticipation courses through your veins on one of nature's best obstacle courses. The exhilarating dance between man and machine will surely make you feel like an off-road warrior.
Grab your sense of adventure and get ready to create memories of a lifetime on these ten exciting day trips and weekend escapes from Knoxville.
1) Go For A Nature Trail At The Great Smoky Mountains National Park
Lace up your boots, grab your water bottle and set off on the best nature trails at the Great Smoky Mountains National Park.
Whether you are in the mood for a leisurely stroll or want to conquer a challenging climb, there is something for every nature enthusiast at the most visited national park in the US.
2) Take Your Family Or Friends To Pigeon Forge
Cradled in the center of the 'Smoky Mountains,' Pigeon Forge has the perfect blend of exciting attractions and natural beauty.
Immerse yourself in bountiful greenery, stunning vistas, and captivating wildlife before the week starts in this prime location.
But that's not all! Pigeon Forge also offers exciting rides, interactive museums, and thrilling theme parks. So, if you are planning a family trip or a group trip with your friends, get ready to create unforgettable memories as you soak in the charm of this vibrant town.
3) Go For A Boat Cruise At Chattanooga
Only a two-hour drive from Knoxville, Chattanooga makes an ideal destination for a day trip!
Take a leisure stroll or a riverboat cruise on the Tennessee River for a peaceful ambiance and picture-perfect scenery.
If you want a more adventurous experience, try kayaking or whitewater rafting. You should also knock these activities off to spruce up your trip:
Check out the Tennessee Valley Railroad Museum

Hike on the Lookout Mountain

Explore the International Towing and Recovery Hall of Fame Museum
4) Try Out Whitewater Rafting At The Mountain Town Of Gatlinburg
When it comes to a relaxing outdoor recreation activity, nature junkies can't leave out The Mountain Town of Gatlinburg.
Teeming with outdoor adventures and a charming mountain town atmosphere, a visit here is just what the doctor ordered.
Are you a water aficionado? Try your hand at water rafting. The rivers are busting with thrilling rapids guaranteed to pump your adrenaline to new levels.
If you simply want a leisurely adventure, add horseback riding to your list. Soak in the beauty of the mountain ranges as you go through the vast and lush greenery.
After exploring the trails of the Smoky Mountains, stroll through the streets of Gatlinburg. There are plenty of cozy cafes and dainty restaurants to explore.
Treat yourself to a delicious meal at one of the local eateries and experience new flavors of the region.
5) Go Hiking At Tugaloo State Park, Georgia
All wild wanderers' best weekend trips from Knoxville must include a visit to the park.
Soak in the scenic views on your three-hour drive to Tugaloo State Park, where nature's beauty unfolds with every twist and turn.
Making the perfect destination for outdoor lovers, you'll be greeted by the tranquil beauty of Lake Hartwell, embraced by lush forests, and captivated by the beautiful rolling hills.
Take your time to explore the park's hiking trails to become one with nature. For a more challenge-filled activity, go mountain biking. Afterward, you can unwind at the lakeshore and enjoy your picnic in the serene atmosphere.
6) Explore Blue Ridge, Georgia
Buckle up and enjoy one of the best day trips from Knoxville to Blue Ridge. It will take you two hours to arrive at your destination but trust me, it's worth every minute.
The verdant forests, winding roads, and postcard-worthy vistas will surely leave you speechless.
However, Blue Ridge is not just the hub of panoramic views; it's also a hub of vibrant art culture. Discover a trove of art galleries and studios showcasing the local artisans' creative side.
If you are a true nature and adventure enthusiast, you won't dare leave the city without checking off these must-see locations:
Blue Ridge Lake

Zipline Canopy Tours of Blue Ridge

Blue Ridge Scenic Railway
7) Kid-Friendly Activities At Oak Ridge, Tennessee
A family day trip? Oak Ridge is right around the corner. Only a 30-minute drive from Knoxville, you will have no qualms from the kids for this short adventure.
When planning a family trip, Combining outdoor exploration with educational fun is always a good idea. So why not start by visiting the Children's Museum of Oak Ridge?
Explore the wonders of science and history at the museum and see the city's magic unfold. It's a perfect destination for kids to learn more about technology, science, and history in a fun way. From interactive exhibits to hands-on activities, your little ones will have an unforgettable learning experience.
8) Go Biking In Huntsville, Alabama
Drive down to this vibrant southern city for one of the best fun-filled day trips!
Grab your helmet and bike and embark on thrilling biking trails weaving through enchanting backdrops of the city.
If you are on a family trip, don't leave without visiting U.S. Space & Rocket Center. Learning about space exploration will be a great highlight for your little ones.
To wind up, go for a stroll at the Huntsville Botanical Garden.
9) Witness The Waterfalls At Cumberland Falls State Resort Park, Kentucky
Let the splendor of the waterfalls and the tranquility of the trails embrace you on your trip to Cumberland Falls State Resort Park.
Popularly referred to as the "Niagara of the South," nature enthusiasts flock to this prime location for serenity and awe to wash over them.
Navigate through gentle rapids, meander lush forests, and try your hand at kayaking. And if you are lucky, witness the magical moonbow, a lunar rainbow that only appears during full moon nights.
10) Rejuvenate And Revitalize At Maggie Valley
As you drive into Maggie Valley, you'll feel a laid-back and welcoming vibe that instantly puts you at ease.
Embrace the outdoors by taking a scenic hike at Cataloochee Valley, if not the Great Smoky Mountains.
And when hunger strikes after a long day of trekking, try out the delicious southern cuisines at local eateries. From homemade pies to mouthwatering barbecues, you are surely in for a treat.
To cap off one of the best day trips, visit the Stompin' Ground. Dance away your stresses to the bluegrass and folk music showcased by the region's talented local artists.
11) Plan The Best Weekend Trip From Knoxville To Pioneer
Who plans the best day trips from Knoxville for adventure lovers? Without a doubt, Royal Blue Adventures. With a team of experts and an unrivaled series of outdoor trip successes, you are guaranteed to have an unforgettable getaway from Knoxville.
How about you book one of the most popular off-road adventures and experience nature in the most exciting way? We are sure you will ride until the wheels fall off!