Are you planning a family vacation but don't know where to start? How about visiting Knoxville to unwind? You can't run out of exciting things to do in Knoxville, TN with kids.
From riding ATVs in the mud, going back in time at the museums, to playing football in renowned stadiums, your kids will be talking about it at all family gatherings.
A tour we think you'll love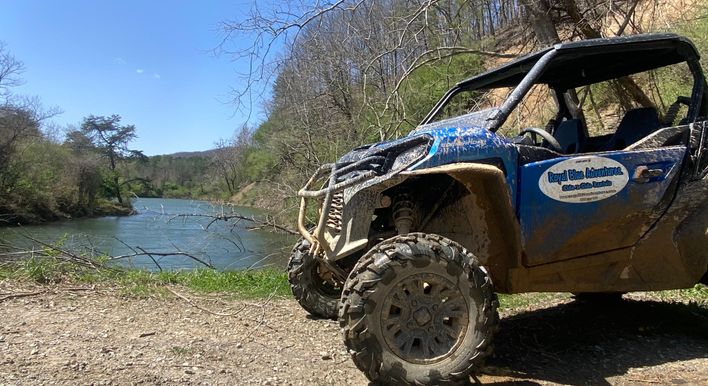 Six-Day UTV Rental
From $2,700
View tour
So, if you are ready to encourage good behavior and excellent grades, you must look into our list of 9 fun things to do when traveling to Knoxville with kids.
1) Experience The Thrill Of UTV Driving
As much as Knoxville can't run out of fun activities for your kids to explore, stop by Pioneer first to jumpstart your vacation.
Pioneer has the best off-road UTV and ATV adventures for experiencing the great outdoors. Climb hills, navigate through muddy terrain, and splash through streams to get your adrenaline pumping for Knoxville.
2) Get Historical At The East Tennessee Historical Society And Museum
If you want your kids to have an unforgettable experience, combine learning and fun.
Head over to the East Tennessee Historical Society and Museum in downtown Knoxville to get in touch with your roots in an entertaining way!
The Knoxville Museum is the perfect place to learn about the deep and diverse heritage of East Tennessee, which will surely captivate the imagination of your little one.
From interactive exhibits of the Civil War to Native American artifacts, there is no room for boredom. The kids can explore the 18th-century cabin replica, dress up in native costumes, and try their hand at making butter or churning cream.
Trust me; they will not want to leave!
There are also other fun museums you can explore with the little ones for an exciting Knoxville trip:
The Blount Mansion in Downtown Knoxville – One of the best activities in the 18th-century mansion is writing in quill pens and making candles. They can also play dress up in period costumes.

McClung Museum of Natural History and Culture – Located inside the University of Tennessee, this museum will be a great stop into the past. Other than history and culture, they organize a myriad of outdoor events for families to attend.
3) See Animals At The Zoo Knoxville
If you want your kids to have a memorable experience on any trip, you must include a trip to the zoo. You can't miss visiting Zoo Knoxville which tops the things to do with kids in Knoxville, TN.
It can never be a dull moment when on the famous Zoo Choo train. The train ride goes around the park, allowing kids to see wild animals up close. They'll awe at the giraffes, elephants, and tigers roaming in their cages.
Wait! The fun has only begun! The zoo also has a splash pad, playground, and petting zoo to keep the kids engaged for hours.
4) Sink In Nature At The Ijams Nature Center
Look no further if you want to explore the great outdoors! Ijams Nature Center has over 300 acres of lush vegetation and wildlife. It's nearly impossible to run out of kid-friendly activities.
The whole family can hike on trails, ride bikes through the forest or go scavenger hunting to find hidden treasures.
But that's not all! There are also various special events throughout the year. Whether it's a guided nighttime hike or an outdoor concert and festival, your kids will have so much fun at this Knoxville attraction.
5) Swing Away At The World's Fair Park
Park, fun, and kids go together in any city. And World's Fair Park is one of the many Knoxville attractions synonymous with fun.
Let them glide down giant slides, play on different swings, and make a mess at the splash pad. Don't worry about safety mom, there are benches fitted nearby so you can keep an eye on your little one.
To wind up the visit to the park, take them up the iconic sphere, Sunsphere. An elevator will take you all the way up for a fantastic view of the city. You'll get to see the Tennessee River, the University of Tennessee, and the Smoky Mountains. The 360-degree view is enough to relax the kids after a long day of activities.
6) Let Loose At The Knoxville Botanical Garden & Arboretum
Visit Knoxville for an unforgettable trip that's sure to bring smiles, giggles, and adrenaline to the kids!
Walk, laugh, and run through the Knoxville Botanical Garden & Arboretum to top the list of things to do with kids in Knoxville, TN.
Get lost in the whimsical wonderland with various hands-on exhibits and play areas. The kids can explore the Treehouse Village, have a tea party at Secret Garden, or climb the giant spider web.
If this isn't enough to get them completely drained for a good night's rest. Try out these activities:
Picnic at Meadow Garden

Go for a bike ride
7) Play Catch At The Neyland Stadium – University Of Tennessee
Are your kids ready to experience the excitement of college football? Neyland Stadium, home to the Tennessee Volunteers football team, is overflowing with so much college fun!
Let your kid get real-life experience by playing in one of the largest stadiums in the country.
Surrounded by thousands of cheering fans, they can battle it out on the field until their uniforms become green. There is also a press box and a locker room which will give your little one the closest feeling of a pro footballer.
8) Act It Out At The Knoxville Children's Theatre
Let your kids' imagination come to life at the Knoxville Children's Theatre. A visit to the theatre is not only fun but informative.
From classic fairy tales to modern stories with interesting plots, you will find a series of productions throughout the year. And the best part? They can dress up and even audition for roles.
They can also learn about directing and stagecraft by signing up for one of the workshops or classes.
9) Build Robots At The Muse Knoxville
Is your little one interested in science, technology, art, and math? Then Muse Knoxville is the perfect destination for a fun and interactive educational experience.
They can explore the human body or even build robots during workshops and special events. It's an exciting setting for older kids, but young ones can also take part in the fun.
Fun Things To Do In Knoxville, TN With Kids
Traveling to Knoxville with kids doesn't have to be a bother. With proper planning, you can knock your kids off the park if you choose Tennessee as your destination. However, you must be keen to include all the fun and adventurous activities not to bore them to death.
This is where Royal Blue Adventures comes to your rescue. Renting out our top-of-the-line UTV or ATV bikes is a sure bet to a year of good attitude and clean rooms. Trade in a 4-hour UTV drives for good grades and clean chores! Happy kid, happy parent.